Massage Therapy Placentia CA
Our Massage Therapists Get Rave Reviews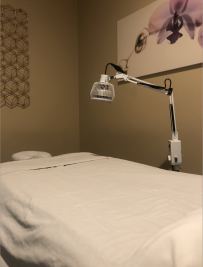 Massage Therapy at Twins Chiropractic Placentia CA offers a variety of therapeutic massage services to help you achieve optimum health and wellness. Our massages are customized to your individual needs and goals, whether you're looking for relief from pain or tension, improved circulation or range of motion, or simply a way to de-stress and relax.
Massage is more than relaxation, it reduces tension/anxiety, promotes breathing, increases flexibility, increases circulation, reduces inflammation, relieves pain, eases muscle fatigue, and improves wellness.
We offer a variety of therapeutic massage modalities, including Swedish Massage, Deep Tissue Massage, Sports Massage, Prenatal Massage, and more. We also offer couples massage, so you can enjoy a relaxing experience with a loved one.
If you have any questions about our Stressless Therapy Massage services, or if you would like to schedule a session, please don't hesitate to contact us.
We look forward to helping you feel your best!
Is deep tissue massage effective?
Deep tissue massage is an amazing sensation, but it may also help you achieve your goals. The massage technique focuses on deeper muscle and connective tissue layers. Because of its ability to stimulate deeper muscles, deep tissue massage technique is frequently utilized after sports-related and other accidents for the regeneration of those muscles.
Deep tissue massage is thought to aid with low blood pressure, among other things. Deep tissue and other types of body massage are frequently utilized for stress reduction, pain management, scar tissue breakdown, muscle tension, stimulating blood flow and health improvement.
The following are health issues for which deep tissue massage may help:
Chronic low back pain, chronic neck pain, and osteoarthritis of the knee
Labor pains
Depression and anxiety
Fibromyalgia pain and fatigue
Headaches
HIV Patient muscular, tension, cramping, inflamation
Prenatal massages are beneficial for the health of both mother and child during pregnancy. It can alleviate the aches and pains of pregnancy. Preterm infants may experience improved relaxation, reduced pain, and a better mood as a result of the perfect deep tissue massage.
Get the best massage therapist here at Twins Chiropractic for a calm, soothing and relaxing massage!
Twins Chiropractic Placentia Massage Therapists: Most Trusted and Trained
At Twins Chiropractic, we understand that massage therapy is not only a luxurious spa treatment, but can also be an important part of your overall health and wellness plan. That's why we offer the services of some of the most trusted and trained massage therapists in Placentia.
Whether you're looking for a massage therapist to help relieve pain, stress or tension, our massage therapists will work with you to create a custom treatment plan that meets your needs. And because we're a chiropractic office, we can also offer you guidance on how to maintain your health and well-being through regular chiropractic care.
If you're looking for great massage experience therapy in Placentia, look no further than Twins Chiropractic. Call us today to schedule an appointment.
Allow yourself to be pampered and relax
With one of our professional massage therapists at Twins Chiropractic.
Set up a consultation or an appointment with a massage therapist today by calling Twins Chiropractic phone (714) 985-9554.
You can also visit us 600 S Placentia Ave Ste 600 Placentia, CA 92870.
We look forward to helping you feel your best!
Pricing and Hours
Experience the full benefit of professional massage therapy.
Fees
50-minute massage………………………………$100.00
5 massage package……………………………… $375 (75/massage)
10 massage package……………………………$700.00 ($70/massage)
Days and Hours
Mondays: 9:00 a.m. to 6:30 p.m
Tuesdays: 1:00 a.m. to 6:00 p.m
Wednesdays and Fridays: 9:00 a.m. to 6:00 p.m
Thursdays: 9:00 a.m. to 6:00 p.m
Saturdays: 10:00 a.m. To 12:00 p.m.
Mention this website to receive a FREE chiropractic consultation.
There will be a $20 charge if appointments are cancelled within 24 hours of appointment.
CONTACT US »

Massage Therapy | Twins Chiropractic and Physical Medicine