Massage Therapy Buena Park CA
Welcome to Twins Chiropractic Massage Therapy Buena Park CA
Are you looking to reduce stress and anxiety? Maybe relax your muscles or rehabilitate injuries? Massage therapy is perfect for reducing pain and promoting quality of health.
Twins Chiropractic's Massage Therapy deals with a range of clients from professional and amateur athletes to working professionals suffering from office-related pains and discomfort. Whatever your concern is, we would love to help you.
We are a massage therapy clinic that offers a variety of massage services. Our talented and experienced massage therapists will work with you to customize a treatment plan that meets your specific needs. Whether you are looking for a great massage to help relieve pain or stress, or just want to relax and rejuvenate, we can help.
You may be wondering, what method of massage therapy is appropriate for you? Call us, and let's match your need to what we provide.
Twins Chiropractic's Massage Therapy in Buena Park CA
Offers a variety of massage modalities to meet your specific needs:
Swedish Massage: This is the most common type of massage. Our certified massage therapist uses gentle, flowing strokes that include kneading from your neck to your body to promote soothing, and relaxation and ease muscle tension.
Thai Massage: This type of massage can be both invigorating and relaxing. It is said to help improve circulation, flexibility, and energy levels. Thai massage is often used to relieve stress, improve the range of motion, and reduce pain.
Deep Tissue Massage: This type of massage is more focused and targets deep layers of muscle tissue. This massage modality works with the top layers of muscle, fascia, and connective tissue to release tension while relaxing.
Sports Massage: This type of massage is designed to help athletes recover from injuries and improve their performance. It can also be beneficial for anyone who wants to reduce muscle soreness or tension
Reflexology: This is a therapy that focuses on pressure points in the hands and feet. It is based on the belief that these points correspond to specific organs and systems in the body.
Couples Massage: This is a massage for two people. It can be a great way to relax and connect with your partner.
Prenatal Massage or Pregnancy Massage: This type of massage is specially designed for pregnant women. The massage therapist loosens and warms the body and is said to help stimulate blood flow. It can help reduce stress, ease muscle tension, and promote relaxation.
Trigger Point Therapy: A type of massage therapy that focuses on specific areas of the body that are known to be tight or have knots. These knots can cause pain in other areas of the body, and trigger point therapy can help to release them.
Lymphatic Drainage Massage: A massage therapy to improve the appearance of cellulite. The massage therapist uses gentle, rhythmic strokes to encourage the lymphatic system to move fluid through the body to stimulate blood flow.
If you're interested in trying any of these massage techniques, Twins Chiropractic Buena Park CA is the place to visit. Our professional and trained Buena Park massage therapists will provide you with the treatment you need. Our massage therapist will work with you to customize a treatment plan that is beneficial for your overall health and well-being. Massage therapists use either massage oil or lotion during the massage session. The massage therapist will work within your comfort level.
What is Massage Therapy and How Does It Work?
Massage therapy is the manipulation of the body's soft tissues such as muscles, connective tissue, tendons, ligaments, and joints. Massage therapy is a clinically proven healthcare option that relieves the discomfort associated with daily occupational stresses, muscular overuse, and many chronic pain conditions.
Massages can be used to treat acute and chronic ailments. Massage Therapists work with a wide range of patients, including those recovering from illness or injury rehabilitation, as well as people who are disabled.
How Can Massage Therapy Help?
Massage therapists are masters of the skeletal system, which is ultimately affected by the muscular system. Together, these systems greatly influence the nervous system, the master controller of the body.
Massage Therapy has been shown to be beneficial in the treatment of neck pain, shoulder pain, lower back pain, Tennis Elbow, and a variety of diseases. Some disorders can be treated with massages.
Benefits of Massage
Massage and the manipulation of the muscle groups of the body relaxes and eases muscular strains, tears, aches, trapped nerves, and other similar body pain. Toxins are flushed from the muscles using Lymph fluid, these are then exited from the body over time through your urine. This toxin release helps speed up muscle recovery time which is good for all of us, but particularly helpful if you're an athlete or where being physically fit forms part of your daily or working life.
Massage increases the range of joint motion by stretching ligaments and tendons, keeping them supple. It helps diminish the pain and discomfort associated with muscle strains, fractures, sprains, Sciatica, and aching joints in addition to more complex issues like Lordosis or Osteoarthritis. It increases oxygen and blood flow around the body, bringing fresh nutrients to areas of the body that might have previously been blocked or received only diminished nutrient flow. Massage also stimulates the skin and nervous system while at the same time relaxing the nerves themselves. Regular treatments will have an accumulative effect.
All massages can leave you feeling thirsty so it is important to drink a sufficient amount of fresh, clean (preferably filtered) water.
Massages and myotherapy have been shown in studies to be effective in treating:
Chronic/subacute low back pain
Muscle aches with delayed onset (DOMS)
Anxiety
Stress
Injuries to the soft tissues
Elevated blood pressure
Insomnia
They can also be used to reduce pain effectively to help people with:
A long-term illness
A potentially fatal illness, such as cancer
Massage Advantages in Buena Park CA
One of the most immediate advantages of massage is a sense of deep relaxation and calm. Thorough massages cause the release of endorphins, which are brain chemicals (neurotransmitters) that produce feelings of well-being.
Stress hormones like adrenaline, cortisol, and norepinephrine are also reduced. According to research, high levels of stress hormones impair the immune system.
Massage and myotherapy have the following physical benefits:
Decreased muscle tension
Increased circulation
The lymphatic system is stimulated
Relieve stress
Relaxation
Increased joint flexibility and mobility
Skin tone improvement
Improved soft tissue injury recovery
Increased mental alertness
Decreased anxiety and depression
Breaking down scar tissue
Massage techniques to enhance your perfect massage experience
Massage therapists typically use either oil or talcum powder to allow their hands to glide over a person's skin. A sheet or thin piece of cloth can also be used to achieve the same effect.
Massages in Buena Park may include:
Myotherapy
Myotherapy is the evaluation and treatment of soft tissue pain, injury, and disability that affects movement and mobility. The health and function of the soft tissue structure (muscles, tendons, ligaments, fascia) of the human body are restored and maintained through myotherapy.
Oncology Massage
Oncology massage is a type of therapeutic massage therapy customized bodywork combining compassion and specialized massage treatments to help people cope with cancer.
Lymphatic Drainage Massage
Lymphatic drainage is a gentle whole-body treatment that calms the nervous system and boosts the immune system.
Reflexology
Reflexology is based on the idea that certain parts of the body reflect the entire body. Reflex points in the feet, hands, face, and ears correspond to all parts of the body. Pressure on these points stimulates the body's natural healing process.
Aromatherapy
Aromatherapy is the addition of essential oils made from selected flowers and plants to massage oil for their therapeutic properties. The session begins with a relaxing essential oil inhalation to enhance calm to alleviate nervous tension.
Trigger Point Massage
Trigger point massage: A trigger point is a hyper-irritated tissue that causes pain and tenderness when compressed. This massage technique uses concentrated pressure to alleviate this trigger point.
Shiatsu Massage
Shiatsu is an oriental therapeutic massage technique that works at specific points on the body to improve energy flow. Shiatsu massage's underlying principles are similar to those of acupuncture.
Deep Tissue Massage, Swedish Massage or Myofascial Release massage
A great massage service that gets to the deeper layers of your muscles. Deep Tissue massage is used to loosen knots and relieve pressure points all over the body. Athletes, office workers, mothers, and those who sit for long periods of time will benefit from this Swedish massage.
Prenat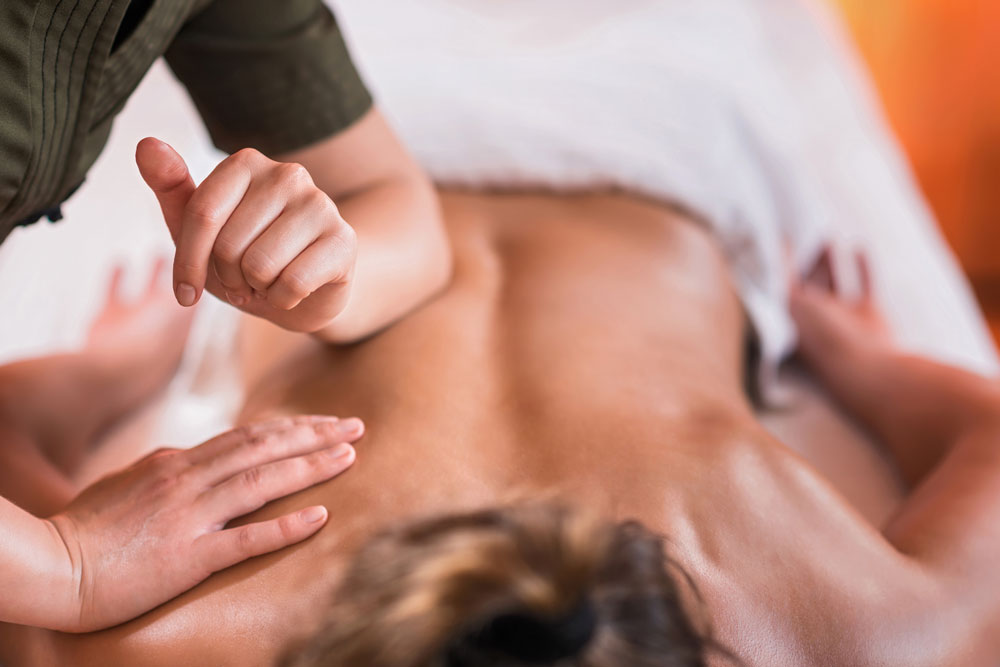 al Massage
Prenatal massage can help reduce stress, reduce symptoms of depression, relieve muscle aches and joint pain, and improve labor outcomes. Prenatal massage can also aid in hormone regulation, blood flow, and swelling reduction.
Thai Massage
Thai therapeutic massage therapy can be invigorating as well as relaxing. It is an excellent option for maintaining muscle health if you regularly exercise or if you want to overcome a lack of flexibility. Thai massage has been shown in studies to improve blood circulation, flexibility, and ease muscle tension.
Sports Massage
Sports massage therapy is an application of massage, not a specific massage technique. The type of technique or treatment used is determined by the stage of training or competition, sports-related injury or condition, and the remedial massage therapist's assessment. Sports massage is a combination of techniques designed to improve performance and aid in the recovery of overworked muscles. Sports massage helps realign muscle fibers for better mobility.
Special considerations for massage in Buena Park
Massage Therapy and myotherapy are not recommended or vary depending on the following situations, and a GP or specialist referral is required, including (but not limited to):
While pregnant
If there are skin rashes, cuts, or infections
If there is a possibility of fractures or broken bones
If the person is suffering from a terminal illness
What to expect during your first visit?
As part of your session and assessment, you will complete a confidential health history on your first visit. Your licensed massage therapist will evaluate your specific needs as well as any other factors that may be causing your injury, condition, or any trouble areas. The massage therapist will collaborate with you to create a treatment plan that will ensure you receive appropriate care. The treatment plan is subject to change at any time and will be reviewed at the appropriate time. You are under no obligation to participate in any aspect of service. After you have given your informed consent, your treatment will begin. Setting realistic treatment goals, discussing potential treatment responses, and being informed of alternative care options are all part of this process.
Our Massage Therapists Get Rave Reviews
Twins Chiropractic and Physical Medicine are fortunate to have some of the top licensed massage therapists in Buena Park as part of their staff. Each one has been handpicked and has a minimum of a decade's worth of professional experience to help you in optimizing your health.
Here are our top massage therapy styles:
Deep Tissue Massage Therapy
Prenatal Massage Therapy
Swedish Massage Therapy
Sports Massage
Mobile Massage
Massage Therapy Patient Center near you!
If you are visiting one of our massage experts in one of our Orange County offices for the first time, we want you to be prepared. Our top priority is your comfort!
Twins Chiropractic and Physical Medicine also have other convenient locations in Placentia, Costa Mesa, Garden Grove, Irvine, and Riverside. Each office is warm and inviting, with friendly doctors and staffs, and an open atmosphere. We strive to create an upbeat wellness environment that is also soothing and relaxing.
Book your Appointment and get that amazing experience!
Pricing and Hours
Experience the full benefit of professional massage therapy.
Fees
50-minute massage………………………………$100.00
5 massage package……………………………… $375 (75/massage)
10 massage package……………………………$700.00 ($70/massage)
Days and Hours
Mondays: 9:00 a.m. to 6:30 p.m
Tuesdays: 1:00 a.m. to 6:00 p.m
Wednesdays and Fridays: 9:00 a.m. to 6:00 p.m
Thursdays: 9:00 a.m. to 6:00 p.m
Saturdays: 10:00 a.m. To 12:00 p.m.
Mention this website to receive a FREE chiropractic consultation.
There will be a $20 charge if appointments are cancelled within 24 hours of appointment.
CONTACT US »

Massage Therapy | Twins Chiropractic and Physical Medicine