Massage Therapy Corona CA
Twins Chiropractic and Physical Medicine: Corona's Best Local Massage Therapy
In a world where people struggle to find time for themselves, we promote wellness and balance through not only massage therapy that delivers the maximum benefit possible in those precious moments but by taking moments for ourselves, by creating time to be at peace, to relax and to recover – that we can truly be in touch with ourselves, physically, mentally, emotionally, and spiritually.
Whether you are suffering from a sporting injury, chronic muscle tension, stress, or just fancy some TLC, get in touch today and find out how we can help you.
We believe that massage therapy, bodywork, and energy work can help you feel fantastic. It can be part of a training program, part of rehabilitation work, part of pain management, and part of looking after yourself and replenishing what daily life depletes.
Welcome to Twins Chiropractic Massage Therapy in Corona CA. Our talented and experienced Corona massage therapists will work with you to customize a treatment plan that meets your specific needs. Whether you are looking for a great massage to help relieve pain or stress, or just want to relax and rejuvenate, we can help.
Twins Chiropractic's Massage Therapy Corona CA
Offers a variety of massage modalities to meet your specific needs:
Swedish Massage: This is the most common type of massage. Our certified massage therapist uses gentle, flowing strokes that include kneading from your neck to your body to promote soothing, and relaxation and ease muscle tension.
Thai Massage: The type of massage can be both invigorating and relaxing. It is said to help improve circulation, flexibility, and energy levels. Thai massage is often used to relieve stress, improve the range of motion, and reduce pain. (Not at every Twins Chiropractic office)
Deep Tissue Massage: This type of massage is more focused and targets deep layers of muscle tissue. This massage modality works with the top layers of muscle, fascia, and connective tissue to release tension while relaxing.
Sports Massage: This type of massage is designed to help athletes recover from injuries and improve their performance. It can also be beneficial for anyone who wants to reduce muscle soreness or tension
Reflexology: Not just a foot massage, it can be applied to the hands, feet, and/or ears; massage is used on the entire body. While massage works with the structure of a body, reflexology's purpose is to work to improve gland, organ, and system functions.
Couples Massage: This is a massage for two people. It can be a great way to relax and connect with your partner.
Prenatal Massage Techniques: This type of massage is specially designed for pregnant women. The massage therapist loosens and warms the body and is said to help stimulate blood flow. It can help reduce stress, ease muscle tension, and promote relaxation. For starters, pregnant women should not receive a hot stone massage. The safety of hot stone massage during pregnancy depends on several factors including the stage of your pregnancy and where on the body the hot stones are applied.
Trigger Point Therapy: A type of massage therapy that focuses on specific areas of the body that are known to be tight or have knots. These knots can cause pain in other areas of the body, and trigger point therapy can help to release them.
Lymphatic Drainage Massage: A massage therapy to improve the appearance of cellulite. The massage therapist uses gentle, rhythmic strokes to encourage the lymphatic system to move fluid through the body to stimulate blood flow.
If you're interested in trying any of these massage techniques, Twins Chiropractic Corona CA is the place to visit. Our professional and trained massage therapists will provide you with the treatment you need.  Our massage therapist will work with you to customize a treatment plan that is beneficial for your overall health and well-being. Massage therapists use either massage oil or lotion during the massage session. The massage therapist will work within your comfort level.
How Can Massage Therapy Help?
Licensed Massage therapists are masters of the skeletal system, which is ultimately affected by the muscular system. Together, these systems greatly influence the nervous system, the master controller of the body.
Massage Therapy has been shown to be beneficial in the treatment of neck pain, shoulder pain, lower back pain, Tennis Elbow, and a variety of diseases. Some disorders can be treated with massages.
Massages and myotherapy have been shown in studies to be effective in treating:
Chronic/subacute low back pain
Muscle ache with delayed onset (DOMS)
Anxiety
Stress
Injuries to the soft tissues
Elevated blood pressure
Insomnia
Massage Advantages Corona CA
One of the most immediate advantages of massage is a sense of deep relaxation and calm. Good Massage cause the release of endorphins, which are brain chemicals (neurotransmitters) that produce feelings of well-being.
Stress hormones like adrenaline, cortisol, and norepinephrine are also reduced. According to research, high levels of stress hormones impair the immune system.
Massage and myotherapy have the following physical benefits:
Decreased muscle tension
Increased circulation
The lymphatic system is stimulated
Relieve stress
Relaxation
Increased joint flexibility and mobility
Skin tone improvement
Improved soft tissue injury recovery
Increased mental alertness
Decreased anxiety and depression
Breaking down scar tissue
Deep Tissue Massage, Swedish Massage or Myofascial Release Massage
A great massage service that gets to the deeper layers of your muscles. Deep Tissue massage is used to loosen knots and relieve pressure points all over the body. Athletes, office workers, mothers, and those who sit for long periods of time will benefit from this Swedish massage.
Pren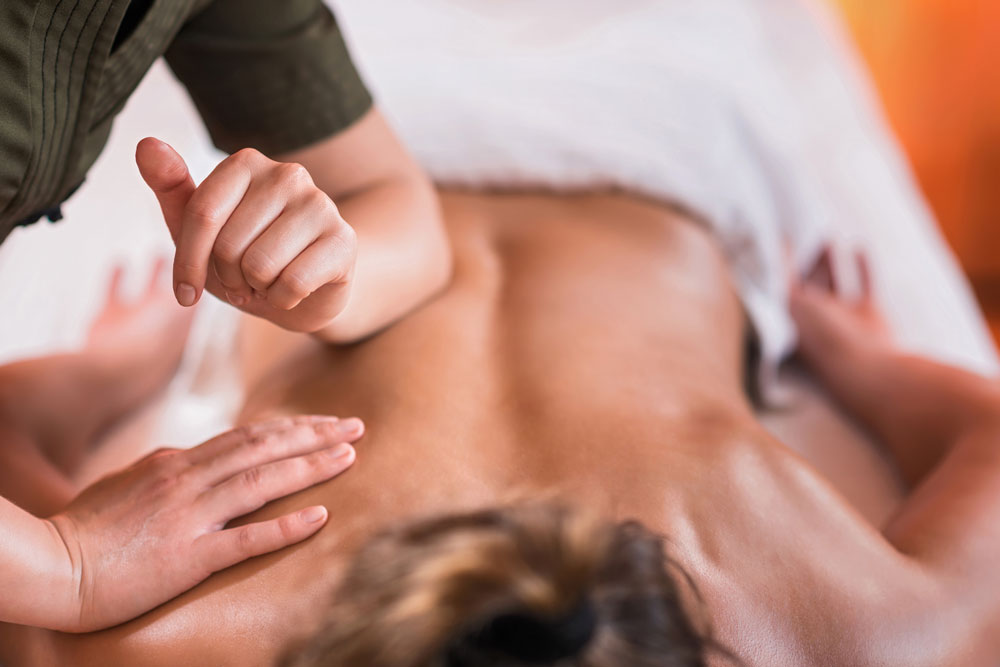 atal massage
Prenatal massage can help reduce stress, reduce symptoms of depression, relieve muscle aches and joint pain, and improve labor outcomes. Prenatal massage can also aid in hormone regulation, blood flow, and swelling reduction.
Thai massage
Thai therapeutic massage therapy can be invigorating as well as relaxing. It is an excellent option for maintaining muscle health if you regularly exercise or if you want to overcome a lack of flexibility. Thai massage has been shown in studies to improve blood circulation, flexibility, and ease muscle tension.
Sports massage
Sports massage therapy is an application of massage, not a specific massage technique. The type of technique or treatment used is determined by the stage of training or competition, sports-related injury or condition, and the remedial massage therapist's assessment. Sports massage is a combination of techniques designed to improve performance and aid in the recovery of overworked muscles. Sports massage helps realign muscle fibers for better mobility.
What to expect during your first visit?
As part of your session and assessment, you will complete a confidential health history on your first visit. Your licensed massage therapist will evaluate your specific needs as well as any other factors that may be causing your injury, condition, or any trouble areas. The Massage Therapist will collaborate with you to create a treatment plan that will ensure you receive appropriate care. The treatment plan is subject to change at any time and will be reviewed at the appropriate time. You are under no obligation to participate in any aspect of service. After you have given your informed consent, your treatment will begin. Setting realistic treatment goals, discussing potential treatment responses, and being informed of alternative care options are all part of this process.
Here are our top massage therapy styles:
We use different massage styles best suited for you and confer the most excellent eastern and western massage in a relaxing, pleasant atmosphere:
Deep tissue Massages Therapy
Prenatal Massages Therapy
Swedish massage Therapy
Sports Massage
Mobile Massage
Thai Massage (inquire about availability)
Pricing and Hours
Experience the full benefit of professional massage therapy.
Fees
50-minute massage………………………………$100.00
5 massage package……………………………… $375 (75/massage)
10 massage package……………………………$700.00 ($70/massage)
Days and Hours
Mondays: 9:00 a.m. to 6:30 p.m
Tuesdays: 1:00 a.m. to 6:00 p.m
Wednesdays and Fridays: 9:00 a.m. to 6:00 p.m
Thursdays: 9:00 a.m. to 6:00 p.m
Saturdays: 10:00 a.m. To 12:00 p.m.
Mention this website to receive a FREE chiropractic consultation.
There will be a $20 charge if appointments are cancelled within 24 hours of appointment.
CONTACT US »

Massage Therapy | Twins Chiropractic and Physical Medicine