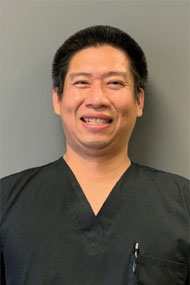 Meet Kenny Phan, L.Ac – Acupuncturist
Kenny Phan attended South Baylo University for his Master of Science in Acupuncture and Oriental Medicine (MSAOM). He then attended Pacific College of Health and Science for his Doctorate in Acupuncture and Oriental Medicine (DACM). To further his acupuncture and herbal skills, he continued acupuncture/herbal training course on Balance Method, Medical Pulse Diagnosis, and herbal with Dr. Yu Guo Jun.
Kenny loves practicing acupuncture because it helps heal people with pain, digestive issues, and stress, holistically.
In his free time, Kenny loves to spend time with his wife, son, and soon-to-be baby girl. He also enjoys playing badminton, basketball, fishing, and hiking with the family.

Kenny Phan | Twins Chiropractic and Physical Medicine