Our Chiropractors Offer Cutting-Edge Care
Experience Relief and Wellness at Twins Chiropractic and Physical Medicine
At Twins Chiropractic and Physical Medicine, chiropractors and identical twin brothers, Dr. Daniel Clements and Dr. David Clements provide their practice members with the very best in the family wellness.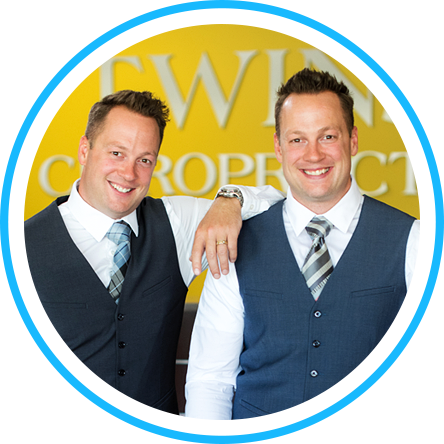 We have a reputation for excellence in several areas:
Our chiropractors, Dr. Daniel Clements and Dr. David Clements use cutting-edge techniques to provide life-changing results for our patients. Whether you are hurt from chronic pain or an acute injury, our team is here to help you heal and feel your best.
So if you are looking for relief from pain, avoid going to surgery, improved mobility, or simply want to feel your best, contact us today to schedule an appointment.
We want to get you better so that you can tell your family – and get them better, too!
Use of Chiropractic Adjustments – Pain Relief for Neck Pain
Body and joint chiropractic is a popular treatment method for reducing pain and improving mobility in the neck and other joints. These manual adjustments involve manipulating the joints to relieve pressure and increase range of motion, allowing patients to experience significant pain relief and improved function.
There are a variety of potential causes of upper back pain, headaches, and shoulder pain, including sports injuries, arthritis, poor posture, or even just excessive use. It can be very uncomfortable and interfere with everyday activities. Fortunately, chiropractic treatments have been found to be an effective treatment option for many people struggling and suffering.
Some of the main benefits of chiropractic treatments include reduced inflammation in the joints, improved circulation and nutrient delivery to tissues, increased range of motion, and reduced muscle tension. All of these effects work together to reduce pain and improve function in the neck.
If you are struggling with joint pain, consider seeking out a qualified chiropractor for treatment. These skilled professionals can provide you with the relief you need to get back to your normal activities.
A Patient-Centered Practice
Our practice is clearly patient-centered. Our best chiropractors, Dr. Daniel Clements and Dr. David Clements always begin with a thorough evaluation and a discussion of the true cause of your problem to provide the best relief and chiropractic adjustments, followed by a customized chiropractic treatment plan that's designed to get you out of pain as quickly as possible.
We want you to trust that we understand your concerns while extending hope that we can be of service in providing your care.
We see you as a member of our own family and will treat you as such. Give us a call today!
We're Different from the Other Chiropractic Care Orange County CA
We understand that most people have never been to a chiropractor or understand how chiropractic care can reduce pain and initiate a state of wellness. Different chiropractors from the wellness center in Newport Beach CA provide preventative care for overall health.
We want to make your experience with us a valuable one, and we'll do that through:
Adherence to the newly emerging healthy model of health care
Dedication to the improvement of your health through one-on-one personal attention
A state-of-the-art evaluation process for accurate diagnosis
Provides chiropractic's natural, drug-free approach to healthcare.
Gentle, cutting-edge chiropractic techniques
Professional personal injury care, where every case is accepted on a lien basis
Massage therapy services with the exclusive use of only highly experienced therapists
A warm, family-friendly office environment
Start a healthy lifestyle and call one of our chiropractic wellness centers today to schedule a consultation. We look forward to helping you on your journey to healthy living.
EXPLORE OUR SERVICES
New Patient Special: Nutritional counseling in the clinic by one of our best chiropractic doctors in Orange CA, Dr. Daniel Clements and Dr. David Clements. New Patients from Orange CA can visit Twins Chiropractic and Physical Medicine at (714) 621-0327. Chiropractor Placentia, Costa Mesa, Garden Grove, Irvine, and Riverside CA.


Five Locations to Serve You Better
Serving All of Orange County