Meet Dr. Phillip Vournazos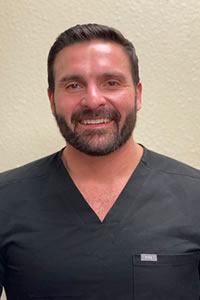 Dr. Phillip Vournazos (Dr. Phill) grew up in Southern California where he spent his childhood years playing sports like soccer, hockey, and football. He received a scholarship for football at Stony Brook University in Long Island, New York. He received his bachelor's degree and won three division championships as the team's captain.
In his senior year of college, he suffered career-ending injuries to his knee and both shoulders along with spinal injuries which led him down the path of health science. After years of rehab, surgery, and Chiropractic care, Dr. Phillip decided to pursue a career in Chiropractic. He went on to gain his doctorate in Chiropractic and has practiced for over 7 years in a multidisciplinary setting and treated an array of conditions from spinal subluxation to sports-related injuries.
In his free time, Dr. Phillip enjoys country music, instruments such as guitar and piano, and spending time with his fiancé. He has recently decided to relocate to the Corona area to help the surrounding community and further his career in Chiropractic as well as start his own family.
Dr. Phillip looks forward to meeting you. Call the office today to schedule an appointment.


Dr. Phillip Vournazos | Twins Chiropractic and Physical Medicine