Meet Dr. David Clements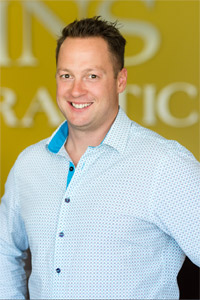 My Chiropractic Journey
Simply put, I saw the benefits of chiropractic first hand when I was playing college hockey. Like all athletes injuries come and go, however I found chiropractic allowed me to bounce back from an injury quicker then talking any type of medicine. It also kept my body strong so I didn't have as many injuries as my teammates did.
Before I chose chiropractic as a career, I was on the path to become a medical doctor. My older brother was a chiropractor at the that time and he told me how chiropractic heals the body. It just made sense, when there is pressure on a nerve then the organ the nerve innervates will not function properly. By removing that nerve pressure the organ will function properly.
On the other hand, giving the body medication to help cover up the symptoms hoping the CAUSE of the symptoms will go away does not make sense. At this point I felt chiropractic was the right path for me.
Philosophy
Our goal at Twins Chiropractic and Physical Medicine is to provided a higher level of care for people so they can live a healthy life. We want to reach out to as many people as possible to relieve them of their pain and discomfort. We make your health our priority!
Education
I received my undergraduate degree at Augsburg College, Minnesota, where I received a hockey scholarship. I was enrolled in the pre-medicine program and obtained a four year degree of a Bachelor of Arts majoring in Chemistry.
After completing my studies there I was accepted at Southern California University of Health Sciences to pursue the chiropractic program. During my four years at SCUHS courses included, biochemistry, human physiology, major emphasis on human anatomy, x-ray, diagnosis, chiropractic technique and patient care. I graduated in 2010 receiving the "Best Technique Award" amongst my graduating class and opened up a chiropractic practice in Placentia, CA.
OUR SERVICES »
About Dr. David
Dr. David is married to his beautiful wife Tiffany where they met in high school in Alberta, Canada where they both grew up. Dr. David comes from a family of six boys, in which three are chiropractors here is California. He practices with his identical twin brother Dr. Daniel Clements who he claims is his best friend. Dr. David plays hockey on a weekly bases and is an active member of the American Chiropractic Association as well as the California Chiropractic Association.
Dr. David believes exercise and diet is an important aspect of being health. He exercises everyday, lifting weights and doing cardio. His diet consists of organic meats and vegetables and little to no fast food. He gets adjusted once a week believes that plays an important role in staying healthy.
Thanks for visiting our site. I look forward to meeting you in person and learning how we may be of service to you. Give our office a call, or email me and let's arrange a time to explore your options.

Dr. David Clements | Twins Chiropractic and Physical Medicine