Meet Dr. Lincoln Carillo, D.C.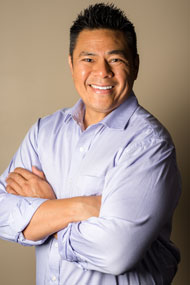 Dr. Lincoln Carillo was born in San Francisco, California. He attended Los Angeles College of Chiropractic, currently recognized as Southern California University of Health Sciences, for his Doctorate in Chiropractic.
A Personal Interest In Chiropractic
Dr. Lincoln became interested in the treatment of Chiropractic at a young age due to frequent headaches he suffered, and his parents' injuries after a car accident. He was referred to a chiropractor and immediately saw great results for himself and for his parents.
From his own personal experiences, Dr. Lincoln knew he wanted to become a chiropractor to help treat and educate his patients on how beneficial chiropractic is to their health.
He has training experience in the areas of acupuncture, nutrition, sports injury, family practice, and personal injury.
OUR SERVICES »

About Dr. Lincoln
Dr. Lincoln also has three children, who are attending college, middle school, and elementary school. In his free time, Dr. Lincoln enjoys working out, golfing, and fishing.

Dr. Lincoln Carillo | Twins Chiropractic and Physical Medicine