Meet Dr. Karl Robinson, D.C. RN, FNP-C, QME, DABAAHP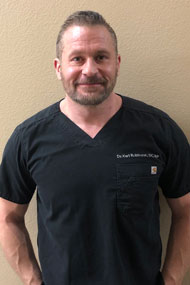 Dr. Karl Robinson started his career in healthcare in 2007 as a chiropractor. He received his bachelor's degree from the University of Colorado and Doctorate in Chiropractic from Parker University.
In 2010, Dr. Robinson then went back to school to seek out more training in conventional medicine. He completed his bachelor's degree of Nursing from Wayland Baptist University and Masters in Nursing at Samford University. Dr. Karl is Board Certified as a Family Nurse Practitioner, Pain management, and Anti-Aging Medicine.
A Wholistic Healthcare Philosophy
He has a passion for offering natural, functional, and integrative therapies for managing painful disorders, hormone imbalances, and nutritional and functional imbalances.
Dr. Robinson's goal in healthcare is to provide a blend of both natural and traditional medical approaches that meets the diverse needs of his patients.
OUR SERVICES »


Dr. Karl Robinson | Twins Chiropractic and Physical Medicine