Meet Dr. Brian Manas, D.C.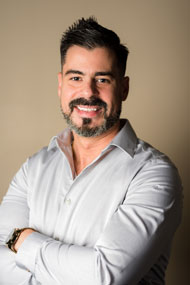 Dr. Brian Manas was born in Miami, Florida. He earned his Bachelor's Degree in Human Kinesiology at the University of Florida, a second Bachelor's Degree in Human Biology at Cleveland University, and his Doctorate in Chiropractic at Southern California of Health Sciences.
Dr. Manas became interested in becoming a doctor in chiropractic after a severe injury, fracturing two vertebrae. During his recovery period, he was referred to multiple types of treatment with few results, until he was finally referred to a Chiropractor.
What he loves most about being a Chiropractor is the continuous satisfaction that patients receive after treatment. Dr. Manas has experience in areas of physical medicine, integrated medicine, pain management, and manipulation with anesthesia.
OUR SERVICES »

Outside The Office
Recently married, he and his wife are now expecting their first child. In his free time, he enjoys watching college football, National Football league (NFL), playing baseball, and going on hikes.

Dr. Brian Manas | Twins Chiropractic and Physical Medicine